Ladies and gentlemen, hello and welcome to the Overwatch Aiming Guide! I'm an Overwatch pro and this is going to be the ultimate accuracy guide for Overwatch. It is the first lesson this is a very very detailed new series that I'm going to be running on this site. This is going to show you how to play Overwatch in massive detail.
The very first thing we're going to do is sort out our accuracy. That is the whole point of this guide, so the first thing we want to do is smash the windows key. Type "mouse pointer" and then bring up this option window and disable "enhance pointer precision". The reason we want to do this is because it causes issues with fast movement. Basically Mouse points precision on a short, but fast movement can launch the pointer further than expected. So you want this turned off because it can mess with your aim.
So let's talk about the actual physical setup itself. This is mine, there is one problem with this setup. I don't have a bungee cord for my mouse, and I really should. However you can see I've got a fairly large mouse pad. It's a new mouse pad and also I've got quite a bit of space.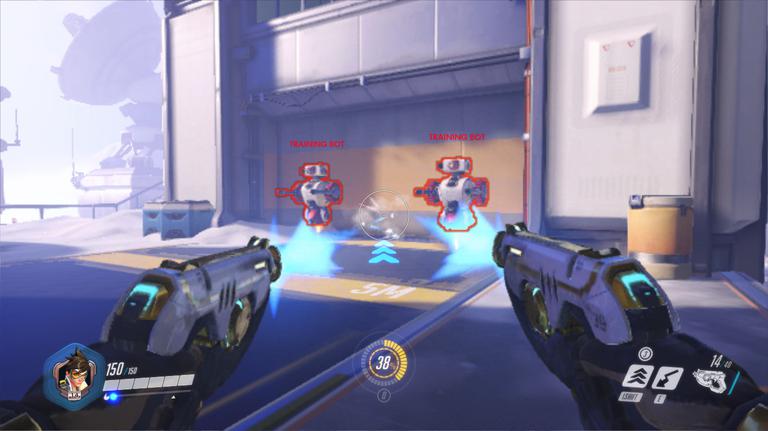 I don't actually have that much space, it might look like I've got a ton of space here but I don't really. I've got other things to the side and all that stuff so you have to take into consideration how much space you've actually got when it comes to setting up your DPI and your sensitivity. Now what I'm going to show you here is kind of my range of movement. Typically what I will do is move my keyboard more to the left. The thing you will see that as you get into more examples. You can see there is a fairly decent range of movement, but notice my mouse cord is getting caught. Yes, that's because I need to get a bungee which is a nice kind of little device which keeps the cord out of the way.
Before we get into the meat of this guide, let's just check this out. This is the thing called pixel skip, which honestly I don't think it's that much of an issue. Basically higher dpi and lower sense is better, so if you look on the right it's smoother than the lower sense. The lower dpi on the left which kind of jitters, so it means the precise aim there can be a bit of an issue. I don't think it's that much to actually warrant focusing on.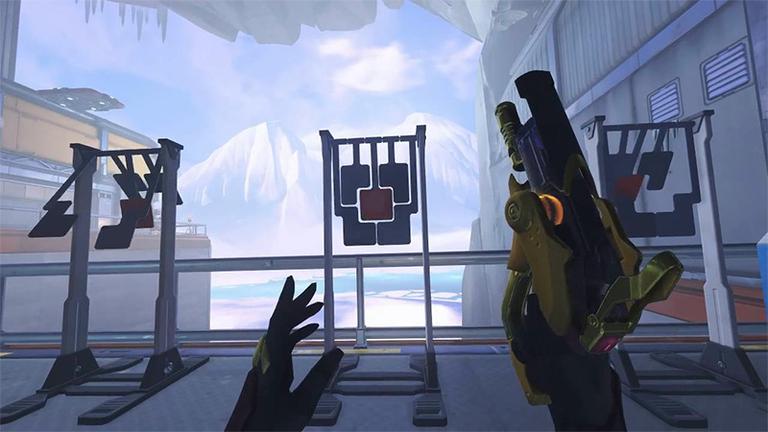 These are my options that I've worked out through hours and hours. Now as I play Overwatch I use 5.8 sensitivity an 800 dpi on my mouse. In terms of what you should do for your crosshairs this is a very personal setting. whatever you want them to be setting for that it's very much like dpi and sensitivity. It's a very personal setting so how do you work all of this out, but I'm going to tell you now in this guide and show you exactly how you work this out so the first thing we're going to do is set up the play area.
Setting up the aimbot so what I've done is moved my keyboard out of the way so I've got my full range of movement this is good now what we're going to do is jump into the training range and start firing at the Overwatch aimbot. Now you can actually load up custom games and do things like that but I like to keep it simple. I like to just keep it in the training range, so what we've got here is me on my absolute optimum settings. 5.8 in game sensitivity in 800 dpi. In terms of you guys working out what dpi to use on your mouse, I would recommend starting at 800. They're messing around with it to see what kind of works. That's what a lot of this guide is going to be about.
This is all personal preference you have to try and work out how these things fit with you how it how it works. I can't just say these are my settings and copy them because it won't work. What I want you to notice with my mouse hand in the bottom right hand corner of the screen, you'll notice that I can move around like do a 360 or a 180, at least with fairly minimal movement. If I had a lower sensitivity or dpi, it would be much harder which I'm going to show you right now. So what you want to do when you first look into setup your dpi is reduce it to a really low level. So here we've got it at 2, and obviously I've got a dpi 800 on my mouse. So with 2 sensitivity you'll know it's like how crazy I'm having to move my hand. This is not good, also if you look at my hand position, I'm using what's known as wrist aiming. I don't use arm aiming. There is an argument that arm aiming is actually better, that would mean putting your arm essentially on the mouse mat, where I only have my wrist on it.
Overwatch aimbots can really help you in-game!
That's how I've always done it because again it's personal preference and that works fine for me. As you can see that's pretty good, but I'm used to those set. That was pretty bad because it was well too low, so what we're going to do is double it. I think is a good place to start, so we're going to go up to 4. Now we're running good for in-game sensitivity, and 800 dpi and as you can see. This is kind of getting there, I'm still a bit shaky when it comes to my Overwatch aim. It's a bit dodgy because it's not what I'm used to.
Let's start increasing it, maybe by I don't know, 1.6, and see what we get. So now we're at 5.6, just to see how that feels. This is starting to feel much similar to my original settings. Because we're getting very close, this is how you do it. You cannot test your sensitivity where is five seconds or so you have to stick the cents on and run around the training ground. I would say for at least five six, seven minutes just get a good feel for it. But remember the critical thing with sensitivity is you do not want to be able to well you need to use your space. It's all dependent on how much space you've got ready. If you've got loads of space then you can have a lower sensitivity and move your arm more. It might actually cause you issues with aches and pains in your arms if you're moving your hands all over the place.
The other thing I want to talk about in terms of sensitivity is rinehart and certain characters. So people like Reinhardt and Genji for example, they could benefit from a much higher sensitivity because they're not like soldier them are not like McCree. Those hitscan heroes generally with a lower sensitivity, they perform better because you can be more accurate. Reinhardt doesn't really need to be that accurate, what he needs to do is be able to change his position really quick. Having a high DPI and a higher sensitivity can work better for Reinhardt, although you will notice that there was a little tip on the screen.